8 delegation skills you need as a manager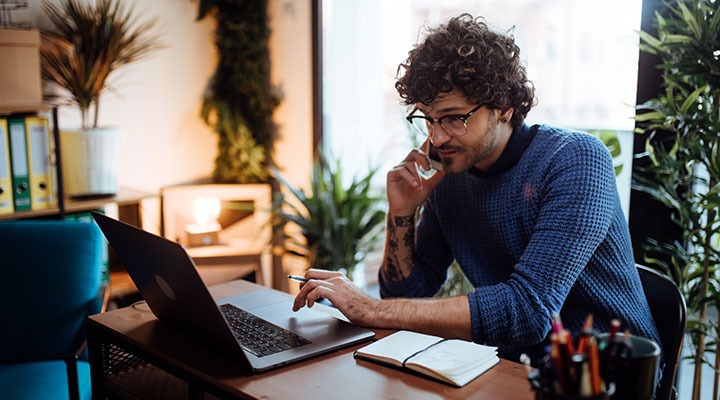 Clearly assign responsibility for tasks and decisions; set clear objectives and measures; monitor process, progress, and results.
If you want to be successful as a leader, it is important to realise early in your management career that you cannot achieve your goals alone. Moreover, you will not be able to manage people effectively if you continue to spend the same amount of time on task-oriented aspects of your workload that you did as a team member. To increase your team's output and prioritise your leadership responsibilities effectively, you must learn to delegate tasks and, in some cases, authority.
Delegation involves
Clearly assigning responsibility for tasks and decisions.
Setting clear objectives and measures.
Monitoring the process, progress, and results.
Designing feedback loops into work practices.
Delegation is an essential management skill and a very helpful tool because it empowers leaders to:
Allocate and distribute equitable team responsibilities and accountability
Encourage growth and development for team members and their roles
Support succession planning and personal development.
Set, plan, measure and evaluate team goals and output
Effectively prioritise aspects of their leadership role that cannot be delegated, such as developing relationships, performance management, strategic thinking and decision making.
States of delegation
To delegate effectively, you must:
Choose the right tasks to delegate
Identify the right people to delegate to
Delegate in the right way.
The investment at the commencement of the process can be significant, but will be worthwhile once you are delegating effectively.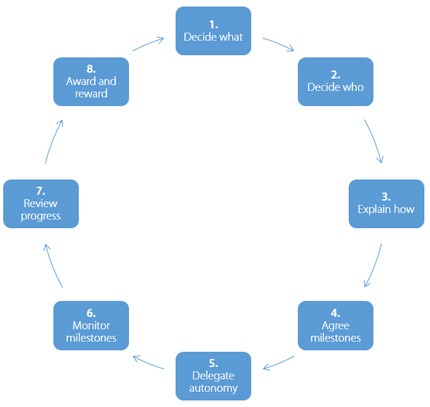 Step 1: Decide what to delegate
Making decisions about what to delegate is important. If you haven't delegated properly before, start by deciding what tasks you currently perform that could or should be delegated. Then, put reminders or processes in place so that each time new work comes into your department, you ask yourself whether you can delegate it.
Step 2: Decide who to delegate to
When deciding which team member to delegate certain tasks to, good leaders consider and balance important factors such as individual skill sets, workloads and opportunities for developing others, as well as promoting team synergy and productivity.
Step 3: Explain how
Managers who delegate well provide a clear and articulate explanation of the task or responsibility being delegated, as well as the expected outcomes and objectives. When you delegate, you must effectively communicate how your team member will be able to identify that their work is complete.
Step 4: Agree on milestones
First, effectively communicate any deadlines or expectations for completing all or part of the task. Then, be sure to set a meeting time to review and discuss progress, provide feedback and support your team member or adjust the priorities if required.
Step 5: Delegate autonomy
Let the team member you've delegated the task to get on with it – there will be time to review things at your agreed milestone checkpoints. Any other time you are tempted to check up on them, practise self-awareness and by reflecting on whether are being supportive or simply micromanaging your staff member.
Step 6: Monitor milestones
Although you delegate responsibility and authority for the task, as the manager, it is your responsibility to ensure there is accountability in place. Monitoring allows you to supervise without micromanaging, encourage and inspire your team members as they move toward their goals, and provide feedback on any necessary corrections to the way they are completing the task. If the team member is making mistakes, identify and use this as an opportunity for training and coaching others. This is a good opportunity to use one of the six basic leadership styles that gets results and may prevent the need for a more difficult conversation with your team member later on.
Step 7: Review progress
When the final milestone is completed, discuss and debrief with your staff member. The delegated task output should only be accepted when it has been completed fully and correctly.
Step 8: Award and reward
If your team member completes the delegated task proficiently, ensure they are aware of their progress and success, and consider rewarding or praising them in front of others too. If the delegated task has been completed above expectation and reward is warranted, then celebrate and reward success as appropriate.
Enhance your leadership development skills with courses at Odyssey Training.

Many things can get in the way of a manager delegating, but once you learn to overcome these obstacles and produce work through other people, you will find you can get more done and achieve better outcomes. Learn how to increase the volume of your workload by identifying and delegating tasks that should not be on your task list, to the people who can effectively get it done. Our 1 day Delegation and Task Management Course will cover the six levels of an effective delegation process, and the positive effect it has on your team members' success and growth.