10 golden rules of effective management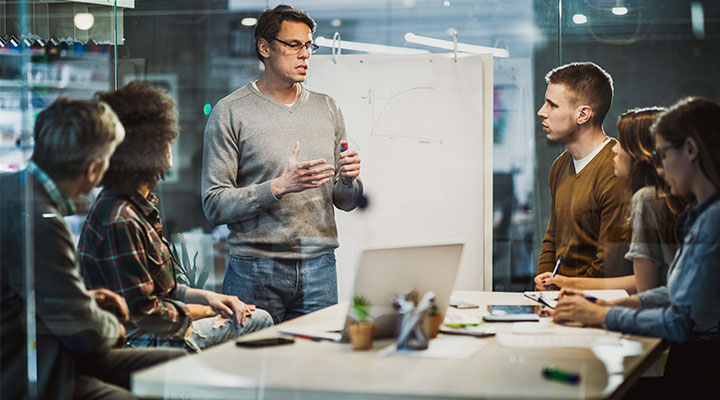 Your management style is unique to you and should be nurtured in that way.
It is important to know that to apply your management style effectively you will need to follow a few simple rules. Whether you're a business owner, team leader or project manager, we've selected these 10 golden rules of effective management with you in mind.
1. Be consistent
Consistency is key. Being consistent means rewarding the same good behaviours, discouraging the same bad behaviours and treating each member of your team equally. Successful mastery of this rule will ensure the success of most of the other rules.
2. Have clear, concise and complete communication
Communication is the foundation of community. Be clear, concise and complete in all channels of communication including face-to-face, phone and email. Follow this rule and you'll avoid costly communication errors.
3. Set goals for the team
United we stand. Goal setting not only helps to ensure the success of a project, it also helps your team work together. When you set goals for the team, you generate creativity and collaboration, as well as provide a unified focus and purpose.
4. Publicly recognise hard work
Good things come to those who work hard. When a team member does something outstanding, reward them with a bonus, prize or verbal praise. Moreover, present the reward in public, to give the recipient a boost and show the team that hard work is rewarded.
5. Be the example
Leaders lead by example—whether or not they intend to. If you show up late, your team will be less punctual; if you take responsibility for mistakes, your team will find the courage to admit to their errors. Show your team what you expect of them instead of telling them.
6. Be transparent
Trust and transparency go hand-in-hand. If you want your team to trust you and follow your lead, you need to be transparent. Of course, there will be times when you can't share information, but keeping relevant information to yourself jeopardises relationships and respect.
7. Tailor your approach for individuals
One size does not fit all. Teams are comprised of individuals, each with their own preferences, strengths, weaknesses and ideals. Focus on individual traits and customise your approach to motivate, encourage and mould each person in your team.
8. Encourage opinions and ideas
Opinions, everyone has one. Yet at work, not everyone shares theirs for fear of ridicule. However, the more individuals engaged in a conversation, the better it is for everyone. Therefore, it's important to encourage everyone to share their opinions and ideas for a diverse discussion.
9. Help people enjoy work
All work and no play makes for a boring day. Having fun at work doesn't have to mean playing pool or abandoning the dress code. You can simply add a dedicated break room or engage in casual conversations with your workers during down time.
10. Listen, ask questions, listen
The quieter you become, the more you can hear. It's easy to dismiss rumblings of discontent in the workplace, but you need to address them. Open dialogue makes it easier to identify and fix problems, as well as ensure employees feel appreciated and acknowledged.
These rules are not strict standards, they're more like governing principles. A complement to your management style rather than an alternative.

Enhance your leadership development skills with courses at Odyssey Training. 

As a supervisor, team leader, or manager, it can be difficult to perfect the art of achieving outcomes through other people, in a way that engages and motivates. Supervision requires balancing different views and adapting your management style to suit the situation. Supervision and People Management 2 day course is recommended for supervisors and first level or first-time managers who require practical tools and techniques to gain the cooperation and support of staff.