Information required for a presentation may already exist in a Word document. You're able to import this information into a PowerPoint presentation without having to retype or cut and paste.
---
Before you start the presentation remember:
the Word document must be formatted with Heading Styles for this to work

you must close your Word document before importing into PowerPoint.

To create slides from a Word document:
Open a blank PowerPoint document

Go to the Home tab

Click New Slide > Slides from Outline > navigate to where the Word document is saved > Insert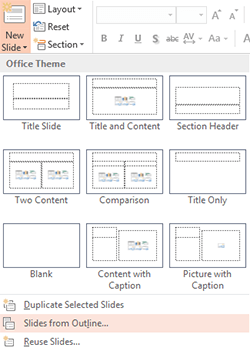 PowerPoint has now generated the slides from your Word document

Go to the Design tab and select a Theme to help you enhance your presentation.

Looking to learn more about PowerPoint? See more free Microsoft tips or browse our range Microsoft PowerPoint courses.