Pasting the values from a formula (so that the numbers never change) has always involved several steps. Often you want to calculate an answer, but store the number, not the calculation.
However, with this tip, you can easily replace your formulas with the calculated values almost instantly
Create the following data and formulas: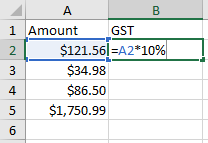 Copy your formula down column B.
Now, let's say you want these GST amounts to be the calculated value, not a formula.
Select the formulas.
Point to the edge of the selected range with your mouse, until the mouse pointer turns into the four sided arrow pointer.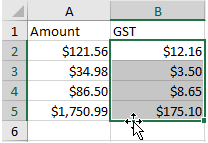 Here's the trick. Click and hold down the RIGHT mouse button while you drag away, then drag back over the same range.
A menu appears: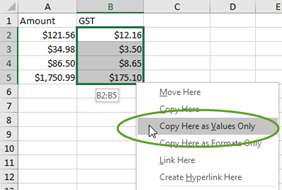 Select Copy Here as Values Only.
You have turned the formulas into hard-coded number, and they won't update again.
This tip was provided by Jane Pettigrew, one of our expert Microsoft trainers. Learn more by attending our beginner to advanced level Microsoft Excel training.