Reader question:
I've got a long document in Word that has multiple headers and footers and lots of automatic field codes. It also has section breaks. When I try to update the fields by selecting all the text and pressing the [F9] key, it doesn't update my headers and footers! Is there a quicker way to update everything than having to go into each header and footer and update them manually?
Answer from Jane, Microsoft Certified Trainer:
Help is on the way! To update all fields at the same time, including those in headers, footers and, and different sections:
Step 1. Go to file File > Options > Display.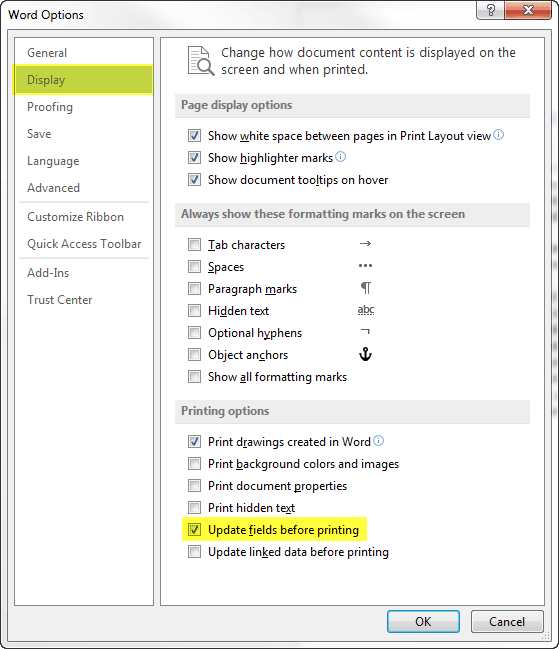 Step 2. Ensure you have ticked Update fields before Printing and click OK.
Step 3. As this setting is now turned on for all documents, when you want to update all fields, simply press [Ctrl]+[F2] to open the print preview window. The fields in the headers and footers will forcibly update.
Step 4. Press the [ESC] key to get out of print preview, and return to editing.
Presto! All your fields are up to date in the document.
Bonus tip: to update the fields in a table of contents, you may have to actually print (or PDF) the document, or use the [F9] shortcut which will always prompt you when it updates.
Learn more advanced Microsoft Word formatting tips with a Word Advanced or Word Templates and Styles course.