Strategic leadership skills: The visionary leader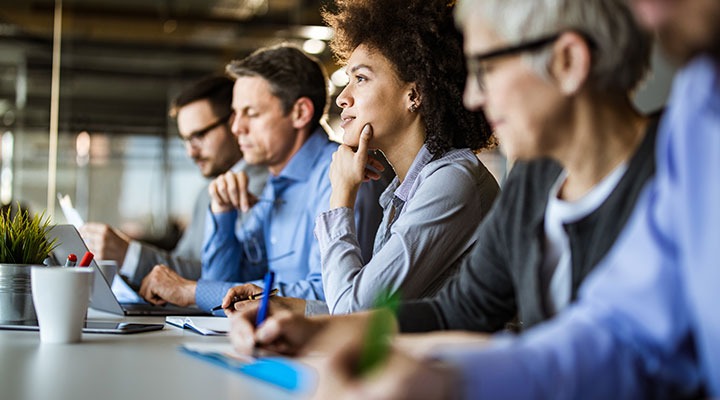 Strategic leadership is a visionary leadership style that may involve both formulating and sharing a clear vision for future organisational success, as well as motivating and persuading employees to subscribe to that vision.
Anticipate, challenge, interpret and decide
Managers who are skilled in the area of strategic leadership are:
Experienced and knowledgeable about setting direction and how to moves towards it.
Forward thinking, open minded and innovative.
Able to create an organisational structure and allocate resources to achieve a specific strategic vision.
Aware of the importance of maintaining the organisation's short-term financial health, while still moving towards accomplishing long-term future goals.
Encouraging and persuasive in a way that inspires employees to follow and believe in their ideas.
Skilled at making use of reward systems and incentives to encourage employees to improve productivity and performance.
Understanding of the impact change has on the workplace.
Able to help the organisation successfully manage change through an understanding of what drives both change and resistance to change.
Adept at demonstrating, through their words and behaviour, a new set of values that aligns with their vision and sets an example for followers to imitate.
Committed to assisting individuals to plan and realise their personal development goals in alignment with organisational objectives.
Able to provide strategic leadership to their direct reports.
Organisations and individuals are in need of strategic leadership now more than ever. We need strategic leaders to:
Provide emotionally intelligent guidance to individuals and teams as they adapt to a rapidly changing world.
Innovate and articulate what businesses must to do to remain competitive and profitable.
Build trust and credibility within teams and organisations, to enhance employee engagement and minimise staff turnover.
Help organisations move forward and cope with the rate of change. If we don't have strong leadership at the top of our organisations, we will be left behind.
Studies by consulting firm Hay/McBer in 2012 gathered responses from a random sample of 3,871 executives from all over the world. Their research determined that there are six skills that allow leaders to think and act strategically, once they are mastered and used together. These skills are: anticipating, challenging, interpreting, deciding, aligning and learning.
Anticipating
A dedicated, strategic leader is constantly vigilant in their observations of their market segment and related environment. They constantly sharpen their ability to anticipate any signals of change they may see. The downfall of many leaders is that they do not allocate time to detect vague or unclear threats or opportunities flitting around the edge of their business.
Anticipating is not just about researching what your competition might be planning next although, depending on your professional role, that may be important. What is always important – whether you lead a marketing team or charity volunteers – is to develop your interpersonal leadership skills such as active listening, so you can anticipate what is happening amongst your people. For instance, by observing and understanding the challenges your team face, you can anticipate and take strategic action to overcome resistance to change or resolve potential conflicts before they escalate.
Challenging
If you are a strategic thinker, then you probably already question the status quo. A strategic leader challenges their own, and in turn others' assumptions, and encourages looking at problems and opportunities through as many different lenses as is possible. This enables them to take decisive action with greater confidence and understanding of the direction they are steering in.
Interpreting
While you are strategically anticipating and challenging things as a leader, you will often end up with a mound of complex, and often conflicting, information. Hence, before you get to the decision-making part of leading strategically, you need the appropriate skills to interpret all that data. Whether you are managing people or numbers, you will need to push through any ambiguity and try to seek any new insight you can from it. Identify your facts, and then consider how they fit into the bigger picture to identify any hidden implications you may not have already seen.
Deciding
Those with the decision-making responsibilities have to make tough calls, often without all the information they would like at hand. To lead strategically, you must insist on reviewing multiple options and not form a habit of dismissing the importance of all seemingly simple choices.
You must develop a routine decision-making process that balances thoroughness with speed, considers the trade-offs involved, and takes long and short-term goals into account. Each time you work through this process, you need to consider how your decisions will impact on your people, and in turn how their responses will impact your organisation's reputation and success. Once you put in the effort, it will eventually become second-nature to you, but first you must discipline yourself to develop a robust decision-making process.
Aligning
To align people strategically requires a notably proactive approach to communication. You will also need to build trusting and trustworthy relationships and have frequent contact or engagement with your people. You cannot work alone, in a vacuum, with people not knowing or understanding what you are trying to achieve. No matter well you anticipate, challenge, interpret and decide on your strategy, if you alienate your people, you'll have a hard time making that vision a reality all by yourself.
Learning
True strategic leadership supports and promotes individual and organisational learning and development. On a day-to-day basis, this means practising and actively encouraging a culture of enquiry and often means valuing progress above perfection.
Allow people to make mistakes and learn lessons from both successful and unsuccessful outcomes. Foster an environment where people can look back unashamedly at honest mistakes and perceive them in an open and constructive way to find the hidden lessons. Strategic leaders don't hold onto regrets and they don't punish; they learn from their mistakes and encourage others to do the same.
You may already be strong in some of the areas of strategic leadership. However, to give yourself the best chance of successfully implementing your strategic vision, you'll need to be able to anticipate, challenge, interpret, decide, align people, and learn along the way. This will assist you to determine how best to incorporate the skills you wish to target into your personal development plan.

Enhance your leadership development skills with courses at Odyssey Training.
There is a difference between being a leader and being a manager, but the best managers are also great leaders who motivate and engage others, connecting people with vision. Leadership Skills for Managers course will allow you to understand the four main elements that must be present within your leadership to have an engaged team, all whilst learning how to overcome change and resistance. Many of your core leadership skills will be strengthened, and you will learn how to think strategically as a leader.