Why project management is so stressful and what we can do to get better at it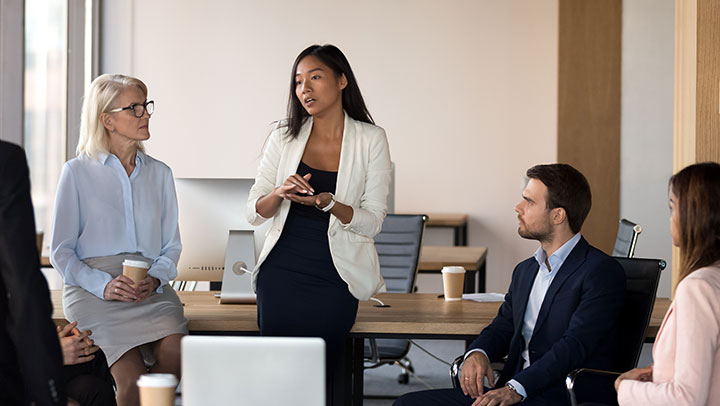 Written by: Brendan Barker
---
If you've ever managed a project before you'll understand the stress that can accompany the role.
Managing budgets, leading a team of different personalities and, my personal favourite, dealing with stakeholders whose opinions – vast and varied – are presented to you with the kind of persistent onslaught that makes you understand why so many people burn out. It isn't common for people to grow up with a burning desire to be a project manager. Many people find themselves managing projects by accident rather than design. What they thought was supervising a few tasks has turned into managing all aspects of the project from end to end.
Most people in project management positions are there because they're good at what they do – subject matter experts in their respective fields. What they may lack are the skills needed to pull all aspects of the project together. It isn't just about organisation of tasks, it's about coordination of timelines to achieve efficient outputs, managing personalities, dealing with conflict, overcoming obstacles, delegation, negotiation, influence, persuasion – the list goes on. These are commonly referred to as soft skills and, if you want to be an effective project manager, they are skills you will need to master quickly.
So, here are 6 tips to advance your project management skills.
1. Identify individual strengths and use them to progress the project
There are many ways to complete the same task in a project. Keeping this is mind, allow employees to utilise their unique strengths to get the job done in time. Every employee has a unique strength and way of completing a task, be flexible and adapt to the team strength rather than the cookie cutter approach. Start with the hiring process of the company, find the right cultural and personality fit for each unique organisation.
2. Take the time to plan your project
As Benjamin Franklin said, 'failing to plan is planning to fail'. Taking the time to create a plan for your project is one of the most important tasks you can undertake. The general rule of thumb is approximately 10% of the total time you have for your project should be devoted to creating a plan for it. The trick is to get over that sense of anxiety you experience because it feels like nothing is getting done. I can tell you, from bitter personal experience, if you go into a project without a plan your anxiety levels will skyrocket.
Just make sure everyone knows you are using this time to create a proper project plan.
3. Communicate clearly and openly with everyone involved
Even the easiest projects can be doomed to failure if you don't communicate properly. But who should you be communicating with? The answer is simple – everyone. Everyone involved with your project, from your team to your stakeholders, clients, customers and project sponsors should be kept informed of the project status with predictable regularity. But remember to keep the information simple and, if possible, visual. Use images and graphs where you can rather than long boring text-based updates. Your status updates should include:
Traffic lights to show whether your project is on track or not
A chart to show where the project is in relation to the overall timeline
Work completed for the reporting period
Work planned for the next reporting period
Success achieved and challenges faced for the reporting period
With your team, use clear language and outline tasks, roles and responsibilities at the start of the project. It is essential everyone in the team understands the objectives and tasks required. Being up to date and having an overview of all topics is key.
4. Use project management tools
Managing projects can seem like a daunting task but it doesn't have to be. Project management tools and techniques exist in abundance and they can put an excellent structure around your project. Do you know what a Work Breakdown Structure is? It is perhaps the single most important document you can create – and it will be created during your planning phase. It will help you capture every task necessary to successfully complete the project and better manage your timelines and budget.
Developing even a basic knowledge of these tools will help you build your project from the ground up, allowing you to plan, implement and evaluate your project with far less effort and stress than would otherwise be called for.  
5. Use progressive iteration to stay flexible
The concept of progressive iteration means your project plan is a living document. The scope of your project – or what your project will deliver – can change at any point due to internal or external organisational forces. But the scope of your project also drives the triple constraints of time, cost and quality. Any changes to the scope of your project must be reflected in corresponding changes to either the time, cost, quality or all three.
Every time these changes need to be made, incorporate them into your plan and send the new version out to everyone involved, noting the changes made. The critical need here is that everyone involved with your project is working from the same version of your project plan.
6. Facilitate continuous learning
Henry Ford once said, 'failure is simply the opportunity to begin again, this time more intelligently'. If you want your project to succeed, you need to learn from your mistakes. Truly effective project managers will create a sense of succeeding and failing together. The glory of any successes is shared by the whole team and failures along the way are used as collective learning opportunities.
Don't play the blame game and don't ruminate
In the end, managing successful projects doesn't need to be difficult, it doesn't need to be stressful and it doesn't have to be feared. Ultimately, it can be among the most rewarding of jobs…

…all it needs is a plan.

Odyssey Training offers a both professional development and computer courses. Learn the fundamentals of Project management with our Project Fundamentals and Microsoft Project Introduction Bundle. Microsoft Project is one of the most commonly used tools to assist in planning, managing your resources, and tracking progress. Save 10% by booking Project Management Fundamentals and an Microsoft Project In-House Training course together.