Must Have Holiday Checklist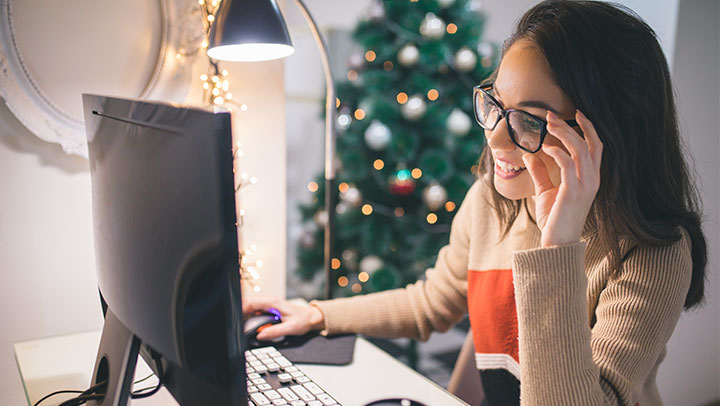 Written By: Rachael Moller
---
We all know that feeling. The holidays are almost upon us and the mad scramble to get everything done on time seems unachievable.
It's amazing that taking a break can create stress. But fear not, our Must-Have Holiday Checklist will ensure that nothing slips through the cracks and when you get back from your well-earned break, everything will be in order!
1. Make a list (and check it twice!)
Start now and make a list of everything you need to do before your holiday. Remember to include all those important last-minute tasks that have to be ticked off before you leave. And be sure to add any tasks you remember along the way.
Group the items on your list to create momentum and efficiency when tackling them. It is much easier to work on similar tasks in one scheduled block of time, rather than scattering them throughout the day, which feels chaotic.  Most importantly allocate time in your schedule to do so.
Be realistic with your expectations and avoid taking on new tasks, where you can. Keep in mind this is the festive season and you may not be able to get quite as much done as usual.
2. Handing over
Identify anything you need to hand over. Do you need to produce a handover document? Should you schedule a meeting to brief others on certain projects or procedures? Schedule handover meetings ahead of time so that you aren't caught out on your last day. A thorough handover should mean you come back to a job well done, and a lot less to worry about.
3. Out of office
This might sound funny as "Out of Office" has been the norm this year. But you do need to set your out of office reply, clear your inbox and update your voice mail message. These seem obvious, but when everyone is in party mode, can be easily forgotten! You can even set separate auto-replies ahead of time and use different messages for internal and external out of office emails. Ensure that your email and voice mail messages include current information such as the date you return from leave and who to contact in your absence. Check if your organisation has a standard message or template to save time creating your own.
4. Declutter your workspace
A clean, decluttered workspace will make your first day back a lot more pleasant. Check your desk drawers and make sure you don't come back to any surprising smells!
Turn off power points, computer monitors, and alarms. Get rid of any outdated information and start with a clean slate for the new year. If your desk is tidy, focus on simplifying. If there is anything you don't need or want, recycle it or file it.
If like many of us, you have been working remotely, simply pack up and put everything safely away. The last thing you want to see if you are holidaying at home is your laptop and any other reminder of work!
5. Declutter your desktop
Ok, so maybe your physical workspace is looking good… but what about your desktop? When you are accessing it every day, it is easy to remember the obscure location of that very important document amongst the hundreds of others on your desktop or downloads folder. So, file your documentation in the most logical format to ensure you don't come back stressed and wasting time trying to find it.
If you need to access any files while you are away, ensure they are accessible, and test that logins and passwords are working.  Make sure you have a system to remember or restore your passwords upon your return!
6. "first day back" to do list
Anything that does not get done or any important tasks for the new year are a good place to start. Put a to-do list together and make sure you add items such as changing those out of office notifications the minute you get back and any follow up that needs to take place on your return.
Ensure that any dates coming up after your holidays are scheduled in your calendar. Do you have reminders set for important events? Did you forget anything important or leave things until the last minute? Add reminders to your calendar now to save history from repeating itself!
7. Practice gratitude and generosity
The end of the year is a great time to show your appreciation to co-workers, clients, and suppliers. Sharing positive feedback and thanks to those you've worked with fosters positivity and can help build relationships. A few genuine words or a card to say "thanks for everything you've done this year" is a great note to end the year on.
Put work to the back of your mind, have fun with the festivities and enjoy your well-earned break knowing you are coming back to a well organised workspace and great start for a happy new year.

Enhance your professional development skills with courses at Odyssey Training. Odyssey Training delivers short courses for frontline staff and is dedicated to providing you with the skills you need to enhance your competitiveness. 
When life gets busy, it is common to feel overwhelmed or spiral into procrastination. Maybe you have a great plan, but distractions and other priorities are stealing your time. You can spend heaps of time doing things right, but if you are not doing the right things at the right times, it is simply a waste. Time Management 1 Day course will help you prioritise effectively and achieve peak performance through practical time management tools that are easy to apply.