Create a Workspace that Works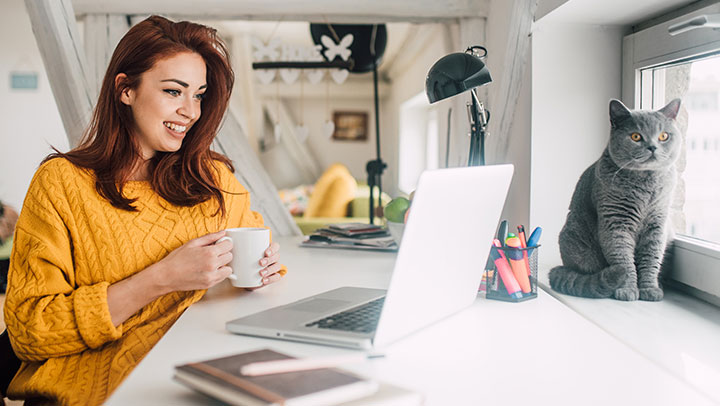 Written by Ann Morison
---
Working at home brings business and personal aspects of life together under one roof.
This can be both rewarding and distracting until you are able to separate business and personal tasks. It is important to take it seriously if you have never worked from home before. Working from home will allow you to get to know yourself and how best you like to work. It is a mindset which you can train yourself to adopt.
Start by setting up your workspace.
Creating an effective workspace is essential if you want to stay on track and get things done. Here are some tips to get you started and prepared to work from home.
Make it your own.
Make it a place where you'll enjoy spending time and be clear that it's a place of work. Making it look like an office will encourage you to be more productive and you can still personalise with fun posters or family photos as well.
Be Comfortable.
Check you can sit comfortably. A high-quality office chair will help you to work better and longer in the same space. Being comfortable in your environment helps you to maintain a positive mindset and focus on your tasks. This will also help you to stay productive and achieve your goals. Utilise your couch or cushions to create comfort and spend time there going over work tasks or for taking breaks.
Safe room.
If you have a door that you can close, it will help you keep your privacy and eliminate any distractions from possible people or outside noise. Otherwise, create a space of your own that you can use. You can use headphones to block out noise, let others know that you need some quiet time. Playing some soft music of your choice can also create a personal ambient safe space for yourself.
Get Organised
Being organised is a habit that we all stand to benefit from. Here are some benefits and then tips on how to stay organised.
Benefits
Increase your productivity.
By keeping organised, you will save time looking for things and will have more time to work on important tasks. You can help your organisation improve the flow of communication to make everyone more productive achieving better results.

Reduce your stress level.
If things are organised and labelled neatly, locating information should be simple rather than a source of stress.

Be on time – consistently.
Organisation and punctuality go together. Consider setting calendar alerts, for example, to ensure you stay on track every time.

Ensure you meet deadlines.
You can also set calendar alerts so you will maintain your deadlines or complete your task ahead of schedule.
Tips to Stay Organised
Start with your desk to further organise your workspace. Is it big enough? And is it suitable for the work you do?

Ensure Easy Access to what you need. Make sure that you have everything you need within easy reach.

Define your Tasks. Organize your work into clearly defined tasks with specific deadlines to help you to stay on track.

Keep your workspace tidy. Spend a few minutes at the end of each session sorting out things like paperwork or empty coffee cups. Clear away as much of it as you can when you switch off for the day.
By implementing these tips, you can start creating a great workspace for yourself, become more organised, productive and enjoy the benefits of your new working environment.
Odyssey Training specialise in facilitating inspiring educational environments. With changes to the professional landscape, we have adapted in order to bring these in-person educational experiences online. Unlike other online courses, all our courses are recorded live with a real trainer. This means you can get answers to your questions straight away and work through real-life examples.
Discover our new range of live online professional development courses such as Inner Management or Business Communication Techniques to further enhance your skills.